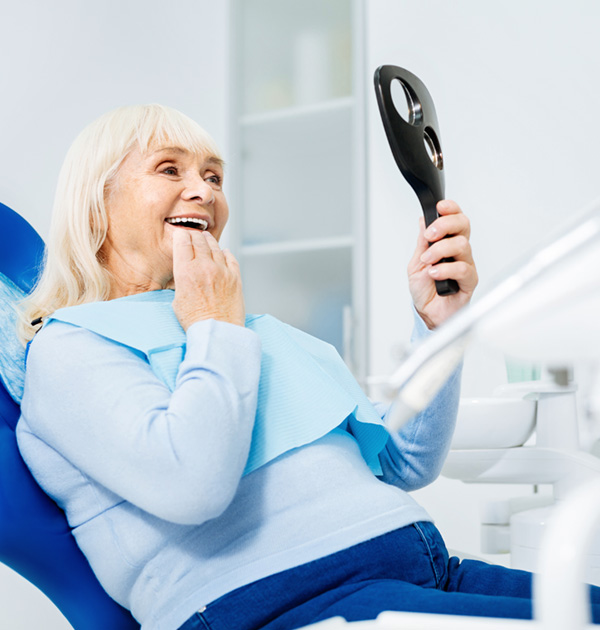 Full Dentures in Sydney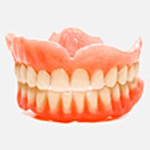 Full Dentures should not cause any discomfort or pain and not interfere with speech and eating.
They should look life like and compliment your face and complexion.
Correct measurements are taken to ensure superior fit and comfort.
Complete dentures are worn by patients who are missing all of their teeth in either the maxilla (upper jaw) or mandible (lower jaw). They are made from acrylic and can be designed with your choice of tooth style and colour.
Not only are dentures a great way to restore your confidence after losing teeth but they can also improve the aesthetics of your face. While often associated with old age, there are a wide range of reasons why you may require dentures — from an accident through to disease. Dentures can be installed at any age, restore function and support you in maintaining your oral hygiene for years to come. No matter the reason, if you are suffering from tooth loss, one of our expert technicians will be able to tell you how full dentures could be the perfect solution for you.
A complete range of denture services in Sydney
At Dentex Dental, we specialise in providing a full range of denture services in Sydney. From your initial consultation through to the finished product, you can trust our highly experienced, clinically trained technicians to provide you with some of the best dentures in Sydney. We offer the finest quality dental prosthetics and, like all of our treatments, we provide some of the best services from the most qualified technicians for dentures in Sydney. If you're considering getting removable dental prosthetics, look no further than our experienced team — we are the denture specialists.

"Always available for a quick check up on my dentures!

Sam H.
How full dentures can help restore oral hygiene
Dentures are considered a full set when they replace all the teeth in your upper or lower jaw or your entire mouth. Our full dentures are acrylic, which offers strong resistance to bacteria and can be removed for easy and regular cleaning. Having broken or rotten teeth inside your mouth can cause all manner of problems for your oral hygiene so when you're considering your options for replacing teeth, full dentures will give your mouth a clean slate for the best possible oral hygiene.
Get a Free Consultation
For your first free consultation, the team at Dentex Dental will take the time to listen and understand the purpose of your visit.
Free Consultation
Call us now at our Hurlstone Park or Rockdale clinics for your FREE CONSULTATION!
Choose Dentex for your dentures in Sydney
With each of our prosthetics created in our private laboratories, you can trust Dentex for a quality set of dentures in Sydney. We work hard to make your options as affordable as possible and even offer payment plans to help you make sure your denture cost in Sydney isn't breaking the bank. Each set of dentures we construct is designed to look completely realistic and to fit your mouth comfortably for everyday use. By tinting your dentures to perfectly match your colouring, we can promise a fantastic aesthetic outcome.
Book online for a free consultation at one of our many locations across Sydney today and see how a set of full dentures can be the solution you have been searching for.
Why Choose Dentex
Free Initial Consultations A free consultation is available, call now to make your appointment at either Hurlstone Park or Rockdale.
10% Discount for pensioners and concession card Holders Take advantage of our 10% discount for pensioners and concession card holders.
Free Denture checks Do you have some concerns or questions about your dentures? Call now to make your appointment and have your dentures checked.
Retirement village and home visit onsite treatment available If you cannot make it to our offices in Hurlstone Park or Rockdale we can visit you at your location.
Free denture cleaning kit for every new denture We provide you with everything you need to keep your dentures in tip top condition.